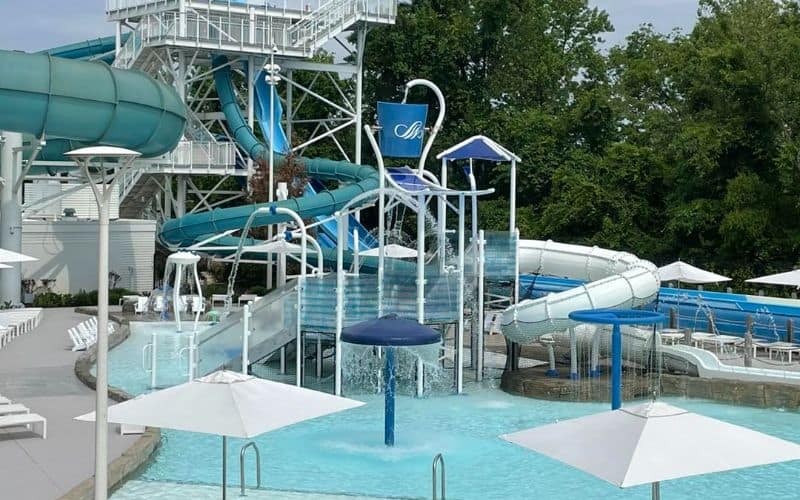 1. SoundWaves at Gaylord Opryland
Dive into a world of aquatic fun at SoundWaves at Gaylord Opryland; this thrilling indoor/outdoor water park in Nashville has become the ultimate family destination since its opening in December 2018.
What sets SoundWaves apart from other water parks is its whopping 111,000 square feet of water attractions designed to entertain both the young and young-at-heart.
For thrill-seekers, the park offers several exhilarating water slides, including one that requires a bit of bravery: a near-vertical drop that will have your heart racing!
If you prefer a more relaxed approach to aquatic fun, drift along the lazy rivers with different tempos or catch some waves in their impressive wave pool.
While this fantastical water park is primarily for hotel guests, there are exclusive savings for Davidson County residents.
So, if you're local, make sure to check out these deals and plan your unforgettable staycation. Who knew such a tropical paradise existed right in your backyard?
SoundWaves spans across 4 acres of combined indoor and outdoor water amenities. When you visit in the warmer months, you'll have access to an incredible outdoor water area complete with more amazing slides, pools, and even private cabanas. It's like having two water parks in one!
Lastly, don't forget about the yummy dining options available on-site. Refuel with a variety of tasty snacks and mouth-watering meals that will keep the whole family satisfied. After all, a day of splashing around can work up quite an appetite.

2. Nashville Shores Water Park
Dive headfirst into a sun-soaked adventure at Nashville Shores Water Park, nestled beside the enchanting Percy Priest Lake.
With over a million gallons of water, from battling the tempestuous waves of the titanic wave pool to hurtling down one of the 10 pulse-quickening water slides, this haven guarantees laughter and memories for all ages.
At Kowabunga Beach, the colossal water treehouse and playground is a realm of wonder for little adventurers, promising hours of imaginative play.
But the adventure doesn't stop at the water's edge! Did you realize the lake is also your playground? Paddleboards, kayaks, jet skis – all available for rent to transform your day into a lakeside escapade.
And, if you dare, swing sky-high at the Treetop Adventure Park—an experience that will etch itself into your memory as you soar through the trees.
With its impressive array of water attractions, lake rentals, and treetop adventures, there's more than enough excitement to keep everyone grinning from ear to ear!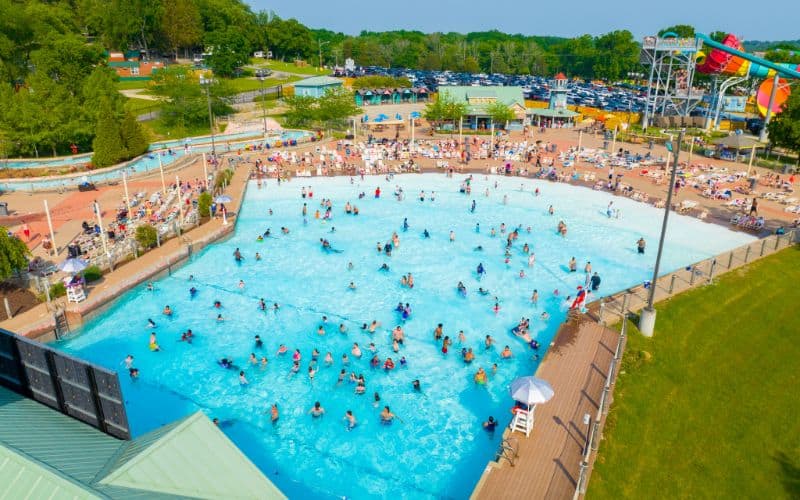 3. Wave Country
Get ready to make a splash at Wave Country, one of Nashville's premier water parks. With its unique wave-action swimming pool, you can ride the waves like a pro surfer!
Wave Country offers not one, not two, but three amazing slides for you to choose from. For the thrill-seekers out there, hop onto one of the two water flumes or speed slides (just make sure you're at least 48 inches tall to ride).
Fear not, little water adventurers, there's also a kiddie slide perfect for the young and young at heart.
Wave Country is open from Memorial Day to Labor Day, making it the ideal getaway for families during the sweltering summer months.
4. Cumberland Park
Cumberland Park is a vibrant urban oasis nestled in the heart of Nashville, waiting to be explored by visitors of all ages.
This delightful park offers a fantastic escape from the hustle and bustle while providing endless outdoor fun and adventure.
Forget traditional water parks; Cumberland Park takes things to the next level with its array of interactive features and imaginative play spaces.
Kiddos will adore the splash pad, where they can cool off and let their imaginations run wild. And don't worry, adults – you can join in on the fun too!
But why stop at water play when you can also explore the park's nature trails, picnic areas, and river access? Plus, you'll be treated to fantastic views of downtown Nashville and the Cumberland River.
Cumberland Park is also home to an amphitheater, making it the perfect spot for catching live performances and outdoor movie nights during the summer months. Talk about a hidden treasure within the city!
Waterparks Near Nashville:
5. Brentwood Splash Park
Get ready for a splashin' good time at the Brentwood Splash Park; this family-friendly oasis is the perfect spot to beat the heat and have an absolute blast.
With hours that cater to your summertime fun, there's plenty of time for you to don your favorite swimsuit and splash the day away.
What's even better? The price of admission won't break the bank! At the time of writing, general admission for adults is just $4, while youth (ages 3-17) and seniors (ages 55+) can enjoy the park for only $2.
While Brentwood Splash Park may not be as gigantic as some of the larger water parks in the Nashville area, it boasts its fair share of unique and fun features.
The park has interactive water spouts, sprayers, and plenty of shallow water play areas perfect for the little ones in your life.
But it's main attraction is the four slides! A straight slide, a single loop and 2 double loops. Plus, it's usually less crowded than other water attractions, so you'll have more space to frolic and play with your family and friends.
Don't forget to pack a picnic lunch, as there are plenty of tables and shady spots for you to kick back and enjoy a delicious meal between your water adventures.
6. Wild Bear Falls Water Park
Nestled amidst the enchanting landscape of Gatlinburg, Wild Bear Falls Water Park is the perfect spot for a family getaway near Nashville.
You'll find a mountain-themed, heated indoor water park that's a perfect escape all year round, rain or shine. With a state-of-the-art retractable roof, Mother Nature won't dare interrupt your water-packed day of excitement.
The park is loaded with thrilling water slides, lazy rivers, and there's even a private cabana area fully equipped with HDTV, mini fridge and snacks for when you need a little splash-free downtime in style!
Wild Bear Falls is part of the Westgate Smoky Mountain Resort & Water Park? Not only do you get your fill of exhilarating water rides, but you can also indulge in the wonders of the Smoky Mountains. Trust us, the views are as breathtaking as the water park itself.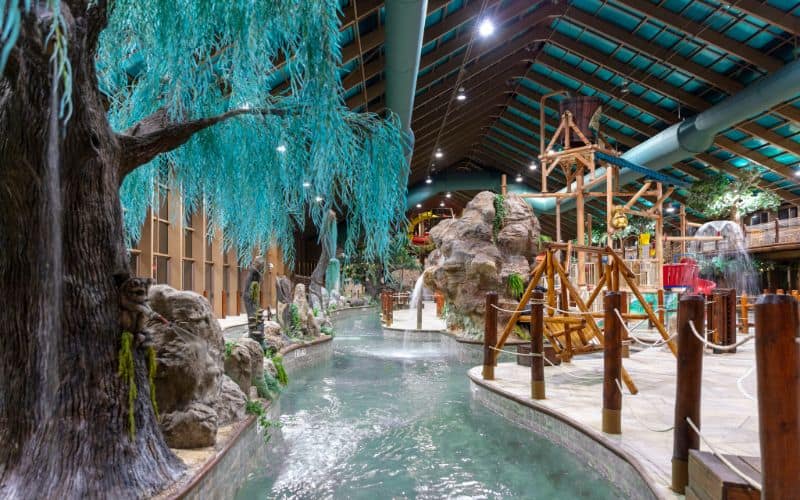 7. Franklin Splash Park
Gear up your bathing suits and sunblock because Franklin Splash Park is calling your name. With thrilling water adventures and relaxation opportunities, this park is bound to make your summer unforgettable.
This water wonderland is your go-to spot for cooling off under the beaming Nashville sun.
Dive into the crystal-clear waters and explore a fantastic array of slides and splash pads where both kids and adults can frolic and have a blast. From speedy slides to gentle sprinkling fountains, every water lover will find their niche here.
Franklin Splash Park is the perfect spot for a sneaky midweek getaway. While weekends can become bustling with excitement, weekdays tend to be significantly calmer.
If you're all about snagging prime lounging spots near the action, a well-timed pool day during the week might just be your hidden treasure!
Remember, the Nashville sun can be quite the scorcher, so make sure to pack plenty of sunscreen and stay hydrated during your day of epic water fun.
With its unique features and family-friendly atmosphere, Franklin Splash Park promises a delightful aquatic escapade that will leave you yearning for more.
8. Dollywood's Splash Country
Dollywood's Splash Country is the most trusted water park in the Smokies. Nestled in the scenic Smoky Mountains of Pigeon Forge, this water park promises endless fun and excitement for all ages.
Dive into a world of aquatic adventures as you zip down thrilling water slides, brave the waves of the enormous wave pool, or float along the lazy river.
With 35 acres of summertime fun, you'll be soaked in entertainment and laughter from dawn to dusk.
What makes this water park stand out, you ask? Well, not only is it adjacent to the renowned Dollywood theme park, but it is also situated in the picturesque foothills of the Great Smoky Mountains, offering breathtaking views while you splash around.
Be sure to visit Dollywood's Splash Country during weekdays, as weekends can get pretty crowded. This way, you'll have more time to enjoy all the attractions without long wait times.
Also, don't miss out on the Mountain Scream Slide for adrenaline thrill-seekers. Feel your heart race as you plunge down a quadruple-drop slide or corkscrew tunnels that promise an unmatched sense of adventure.
Lastly, for the perfect relaxation spot, rent a cabana or grab a shaded lounge chair by the poolside retreat. It's the ideal place to catch your breath, soak in some rays, and recharge for your next exciting splash battle.
9. Boro Beach
Boro Beach is a delightful water park located in Murfreesboro, TN. This bubbly haven is just what you need to put a grin on your face and plunge into a world of aquatic fun.
With its affordable admission price and exciting features, Boro Beach is the perfect spot for a rejuvenating day with friends or family.
All water parks may have some classic attractions, but Boro Beach kicks it up a notch with its two giant water slides that will surely make you twist and shout with joy.
Show off your balancing skills on their floating bridge, or challenge yourself to reach new heights at their climbing wall.
Of course, no aquatic playground would be complete without a splash pad for the young, or young at heart, to play in.
Your rumbling belly won't be forgotten either; Boro Beach has an on-site concession stand where you can grab some refreshing drinks and tasty snacks, keeping your energy levels up for more aqua-filled shenanigans.
The best time to visit Boro Beach is during weekdays when it's less crowded, giving you more room to frolic in the sun-drenched waters.